Student: Aygul Hoffman, PhD, Human Development
This research examined Fall 2019 student survey data to understand ethnic identity and social support influences on social and academic adjustment of students of color in ethnically mixed versus predominantly white university setting. The study confirmed the developmental significance of Phinney's achieved ethnic identity for college students of color regardless of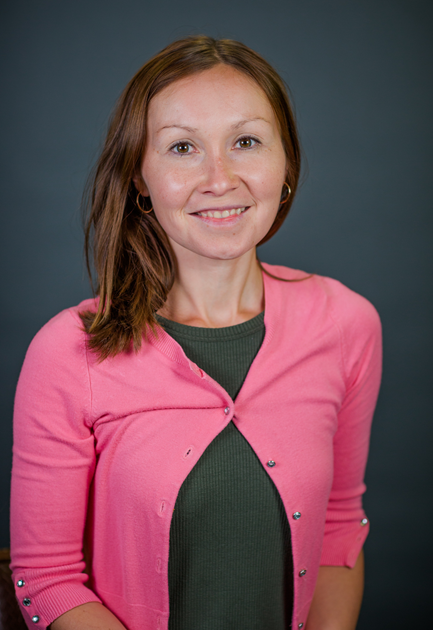 institutional context. Results offered partial support to social identity theory by confirming that students of color tend to feel most supported by co-ethnic and similarly minoritized instructors and peers. However, support from white instructors and peers was also consequential for minoritized student adjustment. Contrary to predictions, no differences in regression paths for ethnic and non-ethnic sources of support were found between two institutional contexts. The study extends Phinney's theory of ethnic identity development to the study of college students and offers practical implications on predictors of college adjustment.
School Psychology Student Lana Mahgoub Defended Her Dissertation:
"Benefits for Whom? Language and Literacy Outcomes for Underrepresented Native English Speakers in DLI Programs" (Summer 2018)

In her dissertation, Mahgoub notes that prior studies illustrate how dual language immersion programs lead to some advantages in executive functioning, language learning tasks, and often result in both positive linguistic and general academic outcomes for both native Spanish speaking and native English speaking students. Her research examines language, literacy, and executive function outcomes of children from specifically underrepresented groups enrolled in Dual Language Immersion (DLI) programs, namely, low income native English speakers, African American, and multiracial youth. Further, her study also explores parental perceptions of their children's academic, social, and emotional progress in DLI programs. Given the importance of literacy skill development, this project focuses on examining the language and literacy outcomes, across race and SES levels, for both native and non-native English speaking students in the DLI programs.
Lana was a graduate student in the School Psychology area. She received her B.A. in Psychology with a concentration in Neuroscience from Grinnell College where she worked in a behavioral lab researching the success of minority students in STEM classes. She has also conducted research regarding children's language development and has an interest in working with minority populations and bilingual speakers.
School Psychology Student Alexandra Ament Defended Her Dissertation:
"Outcomes of Project LIST: A Targeted Analysis of Factors that Influence Effectiveness and Functioning in School Problem Solving Teams" (Summer 2018)

Ament's dissertation explores how problem-solving teams (PSTs) in schools play a critical role in supporting children and adolescents with mental health, social-emotional, and behavioral concerns. Her research evaluates results from PSTs that participated in Project LIST: Learning to Improve School Teams to determine how a coaching intervention impacted their abilities to use a problem-solving process and evidence-based practices to address behavioral issues. It also explores barriers and other factors that may impact the success of PSTs.
Alex was a student in the School Psychology program. She is currently completing her APA-accredited internship with the Center for Autism Spectrum Disorders at Nationwide Children's Hospital in Columbus, Ohio, and will start her post-doctoral fellowship there this fall. She received her B.S. in Psychology from University of Wisconsin-Madison.
Ed Psych PhD Candidate Samantha Blair Defended Her Dissertation:
"A Survey of Summer Camp Directors on Current Behavior Management Practices and Needs" (Summer 2018)

Attending summer camp leads to many positive youth outcomes and research in the school setting has demonstrated the importance of behavior management for student success.  This study looks at current behavior management practices and needs in the summer camp setting to explore ways in which evidence-based behavior management strategies commonly used in schools may be useful in camps.  Research was conducted in collaboration with the American Camp Association to survey summer camp directors around the country about their experiences and perspectives.
Samantha was a graduate student in the School Psychology program.  She is currently completing her APA-accredited internship with the Department of Psychological Services in the Cypress-Fairbanks Independent School District just outside of Houston, Texas.  She received her B.A. in Psychology from Michigan State University.
Human Development Student Joe Anistranski Defended His Dissertation:
"What are the Respective Roles of Developmental Tasks in College Student Belonging? Testing a Balance-Integration Framework" (Summer 2018)

This dissertation explores how specific developmental tasks relate to college students' sense of belonging and how belonging relates to students' intentions to persist.
Joe was a student in the Human Development area. He is broadly interested in college student development, especially how students develop a sense of belonging in college. This fall, Joe will move to California to begin teaching at the University of California Davis.
Human Development Student Yorel Lashley Defended His Dissertation:
"Measuring self-efficacy development in drumming skills and social-emotional learning: Do the sources of self-efficacy beliefs change in level of influence or constitution with more task experience (measured quantitatively)? What are the main cognitive outcomes as understood by the students themselves qualitatively?" (Summer 2018)

His dissertation explores how students practice and learn discipline to find and create supportive communities that enable them to grow into leaders empowered to direct their own lives. Specifically, it uses a West African drumming class to look into how self-efficacy works within enactive mastery experiences (essentially prior experience or practice), vicarious experiences (comparing ourselves to others we saw in the same situations), verbal persuasion (other people saying they expected us to do well or poorly) and physiological affective states (the mood we were in or the how good we felt).
Lashley was a student in the Human Development program area and lecturer in Adolescent Development. He received his M.A. in Afro-American Studies with a History concentration and an M.A. in Educational Psychology. Prior to enrolling, Yorel founded Drum Power, a youth program that has been developing discipline, community and leadership through drumming for more than 15 years.
Quantitative Methods Student Sora Lee Defended Her Dissertation:
"Empirical Study of Asymmetric Item Response Models" (Spring 2018)

This dissertation explores how varying levels of item complexity can manifest through asymmetry of item characteristic curves (ICCs). It also demonstrates how item response theory models attending to the asymmetry of ICCs can be developed to accommodate various psychometric applications. We also examine the potential for asymmetric IRT models to inform empirically about underlying item complexity, and thus the potential value of asymmetric models as tools for item validation.
Sora Lee was a graduate student in the Quantitative Methods area. Her interests are in educational measurement. She has worked as a project assistant in the UW-Madison Office of Testing and Evaluation Services conducting nationally- recognized research on measurement-related topics. Following this, she worked at the National Conference of Bar Examiners as a research assistant conducting data manipulation and test-related research on issues related to automated scoring, standard-setting, and test security.  She earned a BA in Education from Seoul National University of Education and an MA in Educational Measurement and Evaluation from Seoul National University.