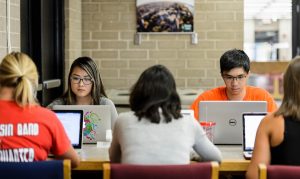 Why was the PIE Scholars program created?
The Prevention, Intervention and Enhancement Scholars program was created to provide enhanced, tailored, and integrative training in domains of educational psychology that address pressing needs in the research and practice of educational psychology. This holistic approach to graduate training embeds synergies across program areas in the department in a manner that leverages our significant strengths in development, learning, prevention and intervention, as well as quantitative and qualitative methodology. Applicants to the department's four program areas are eligible (Human Development, Learning Sciences, School Psychology, Quantitative Methods).
HOW WILL THE TRAINING HELP ME?
Upon graduation, PIE Scholars will be uniquely suited to apply and interdisciplinary and holistic perspective to education. This training will position them to have a population-level impact on children's leaning, development, and well-being. The training will also provide preparation in an array of careers, such as a university researcher, public policy analyst, and research scientist addressing population-level problems.
HOW DOES IT DIFFER FROM THE REGULAR ED PSYCH PROGRAM?
PIE Scholars complete their program area course of study. However, certain courses in that program of study will integrate principles of the PIE Graduate Training Program. In addition, there are other training requirements to enhance the program of study, such as enrolling in additional courses and participating in a colloquium series.
ARE CURRENT STUDENTS ELIGIBLE?
Current students are not eligible at this time. The department is investigating opportunities to expand the PIE Scholar program.
WHAT ARE THE FINANCIAL DETAILS OF THE FUNDING?
PIE Scholars receive four years of guaranteed funding. Two of those years will be on a 12-month fellowship. In one year, PIE Scholars will serve as a Teaching Assistant. In another year, PIE Scholars may be a Research Assistant or Project Assistant.
WILL THIS ADD TIME TO MY TIME TO DEGREE?
PIE Scholars will not experience an increase in time to degree based on participation in the graduate training program.
HOW WILL THIS DIFFERENTIATE ME?
PIE scholars will receive specialized training in principles of prevention, intervention, and enhancement in education. The knowledge and skills acquired in the training program will uniquely prepare PIE Scholars for careers in education and educational psychology that address public policy, learning optimization, and population-level problems in a collaborative and goal directed manner.
What makes a successful PIE Scholar?
A background in education, psychology, methodology, or related fields will position prospective scholars well for the training program. Experience in one or more of the following areas is particularly desirable: prevention science, quantitative analysis, qualitative analysis, human development, public policy, STEM education, systems change, school reform, problem solving, and learning optimization. In addition to training in diverse content areas, a collaborative and team-based approach learning is emphasized. Prospective scholars are ready to collaborate with faculty and students on teams within and across program areas. Finally, prospective scholars are eager for a specialized approach to training that embeds a holistic approach to graduate training in educational psychology that positions them to have a positive impact on society.