Professor Recognized with Chancellor's Inclusive Excellence Award
Since joining the UW more than 20 years ago, Prof. Steve Quintana has worked to include students and educators with diverse backgrounds through his work in the Dept. of Educational Psychology.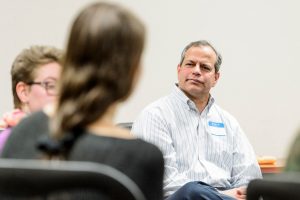 To recognize these efforts, Quintana was awarded one of the university's top honors this Spring, receiving the inaugural "Award for Inclusive Excellence" as part of the UW's annual Distinguished Teaching Awards.
Among the many initiatives he's organized, Quintana, who is also a professor in the Dept. of Counseling Psychology, was recently a coordinator of the Diversity Dialogues program, which are 90-minute facilitated conversations held across campus in small groups focused on diversity issues.
He's also been involved with the Our Wisconsin program, an initiative that provides workshops to incoming UW-Madison students to help build a campus community that is welcoming to all students.
(Posted April 17, 2017)
​Teaching Assistant Wins Campus-Wide Award
Congratulations to Ed Psych Student Lecturer Amanda Siebert-Evenstone, who was recently awarded a Campus-Wide Teaching Assistant Award for 2016.
A PhD candidate in the department's School Psychology program, Siebert-Evenstone is inspired by the undergraduate students she teaches.
"I really enjoy helping students make connections between different topics and reflect on how certain theories we study apply to their daily lives," she says.
Dept. Chair Brad Brown says the recognition is well-deserved. "At all levels – from the undergraduate courses through graduate level work – our students have access to incredible instructors," he says. "Amanda's efforts and this award are more proof of that."
(Posted April 13, 2017)