Our mission is to advance education-related theory and methodology; to improve knowledge about the biological, psychological, technological, and social processes of learning, development, and mental health in diverse populations; and to enhance learning and mental health in educational and community contexts through innovative educational interventions and effective prevention/ intervention programs.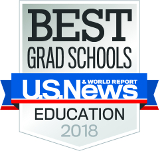 ED PSYCH ONCE AGAIN RANKED NO. 1
UW-Madison's department of Educational Psychology has once again been rated as the top program in its field in U.S. News & World Report's 2017 Best Graduate Schools ranking.
"We are grateful for this recognition, which affirms that our faculty and students continue the Department's tradition of ground-breaking research and teaching," said Department Chair Brad Brown. "The insights and innovation of our faculty will lead to educational systems that can better the nation's students for the challenges they will face in adulthood."
Explore a Graduate Minor in Ed Psych
Our minor program will expand your understanding of how individuals learn, processes of human development, research methods and statistics, and/or how to enhance learning and adjustment in school settings.
Find more info here.