Our mission is to advance education-related theory and methodology; to improve knowledge about the biological, psychological, technological, and social processes of learning, development, and mental health in diverse populations; and to enhance learning and mental health in educational and community contexts through innovative educational interventions and effective prevention/ intervention programs.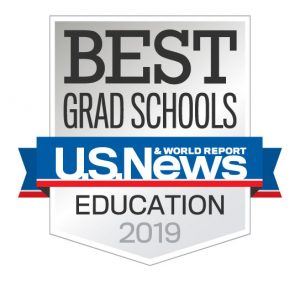 UW ED PSYCH AGAIN RANKED #1
UW-Madison's Dept. of Educational Psychology has again been named as the top program in its field in U.S. News & World Report's 2019 Best Graduate Schools ranking.
"Our reputation is built on the faculty's skill in conducting sophisticated and meaningful research — that is, research that has strong theoretical foundations, advanced research designs, and practical implications for educational practice," says Ed Psych Department Chair Brad Brown. "Our faculty members are involved in studies of bullying, the fundamentals of math learning, use of technology to assist in learning and instruction, programs to inspire early reading, elements of successful family-school partnerships in rural areas, instruction for youths with autism, the adjustment of ethnic minority students to predominantly white college environments — a remarkable diversity of critical issues in education."
Including this latest report, UW Ed Psych has now been ranked Number 1 for seven of the last eight years.
SCHOOL PSYCH LAUNCHES NEW EdS MASTERS PROGRAM
Beginning in Fall 2019, the department's School Psychology program will begin enrolling students for a new Master of Science (MS) Educational Specialist Certificate program.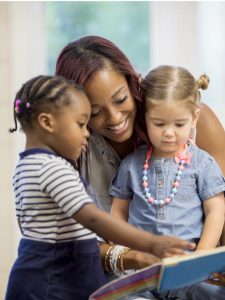 For this MS Educational Specialist Certificate in School Psychology, students will complete the program in 3 years (which includes 2 years of coursework and a 1-year internship), as opposed to the 5 years required in the PhD program.
Graduates of the Educational Specialist (EdS) Certificate program will be prepared to work in schools and related educational settings as school psychologist practitioners and will be eligible for licensure as a school psychologist by the Wisconsin Dept. of Public Instruction. Employment prospects for school psychologist practitioners are accelerating. Of all psychologist specializations, job prospects for school psychologists are among the best.
For more information about the EdS Certificate program and program application instructions, click here.
EXPLORE A GRADUATE MINOR IN ED PSYCH
Our minor program will expand your understanding of how individuals learn, processes of human development, research methods and statistics, and/or how to enhance learning and adjustment in school settings.
Find more info here.
For updates about our program, events and more,
UPCOMING EVENT: ED PSYCH COLLOQUIUM SERIES PRESENTS
Dr. David Williamson Shaffer
Assessing Complex, Collaborative Problem Solving Using Quantitative Ethnography
Monday, Dec. 3 from 2:30 – 4 p.m.
Room 259 Educational Sciences
In the age of Big Data, we have more information than ever about how students solve complex problems in collaborative settings. However, the sheer volume of data available can overwhelm traditional qualitative and quantitative research methods, and there are fundamental issues with making attributions about individual students in the context of collaborative work.
The science of quantitative ethnography addresses these concerns by connecting the study of culture with statistical tools to model complex, collaborative work. The tools of quantitative ethnography take a critical step in the new field of learning analytics: constructing models of individual participation in collaborative work, and doing so in a way that goes beyond looking for patterns in mountains of data by modeling close analysis of student work at scale.
Dr. David Williamson Shaffer is the Vilas Distinguished Professor of Learning Sciences in the Department of Educational Psychology and a Data Philosopher at the Wisconsin Center for Education Research. He is the author of How Computer Games Help Children Learn and Quantitative Ethnography.

ATTENTION PROSPECTIVE STUDENTS:
New Training Program in Prevention, Intervention, and Enhancement for Incoming Grad Students Offers Four Years of Funding
The Ed Psych department is launching an exciting, new program to train incoming graduate students in an interdisciplinary approach to education. The Prevention, Intervention, and Enhancement (PIE) training program creates synergy across disciplines to help students develop a holistic orientation to educational systems to maximize positive outcomes for all children. 
Each doctoral applicant to the Ed Psych department can apply to be a PIE Scholar. Those selected will enhance their program of study by participating in a four-year curriculum with advisors from two program areas. PIE Scholars will receive guaranteed funding for four years. The funding covers a stipend, tuition and student fees, and eligibility to enroll for health insurance.

The PIE Scholar curriculum includes targeted study across all areas of the Ed Psych department, including an emphasis on development, learning, prevention and intervention, as well as quantitative and qualitative research methods. PIE Scholars will receive exposure to the range of populations and issues in education. Scholars will receive training in a diverse set of research methods that are suited to examining pressing issues and identifying evidence-based approaches to support all children. 
For more information, read an FAQ on the PIE Scholars program here
Spotlight News
Remembering Prof. Frank Baker
It is with great sadness that we announce the passing of our friend and former colleague Prof. Frank Baker.
Dr. Baker, who passed in early November at the age of 90, was a professor with the Department's Quantitative Methods area for more than three decades. He also served a term as Department Chair. Baker did pioneering work in Item Response Theory, which is a paradigm for the design, analysis, and scoring of tests, questionnaires, and other measurements. His work on Item Response Theory and other quantitative issues led to more than 100 research publications throughout his career. He retired from the Department in 1998.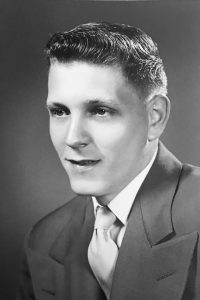 Dr. Baker was an avid skier, serving on the ski patrol of nearby ski hills even into his retirement years. He also designed and built model airplanes and was a founding member of the Madison Area Radio Control Club. His interest in flight went far beyond model airplanes. He earned his private pilot's certificate and rebuilt a badly-damaged Piper Cub airplane, which he flew around the country. In 2004, he published a book on his cross-country flying adventures entitled "Piper Cub Tales."
A devoted father, grandfather and husband, Dr. Baker was also a member of the U.S. Air Force, flying some 50 combat missions as a navigator during the Korean War. For his service, he was awarded the Distinguished Flying Cross and the Air Medal.
"Those who knew Frank will remember his candor, high standards, and wry sense of humor," says current Department Chair Prof. Brad Brown. "He will be greatly missed."
Private memorial services will be held in Minnesota. Read his full obituary here.
MSPE Program Gets New Director
Lisa Hebgen has taken over as director of the Department's Master of Science for Professional Educators program. She succeeds interim director Mary Louse Gomez.
Hebgen, who was previously the associate vice president of student success for the Wisconsin Technical College System, is excited about her new role.
"I love working with educators, especially when it comes to helping them decide on continuing education options," she says. "Deciding to enroll in a master's degree is a big step. Typically it means educators are seeking greater job opportunities, other educational related positions or enhancing their teaching skills."
Enrolling in MSPE, a unique two-year fully-online program, allows them the opportunity to gain experience in each of these options as it combines instruction from the departments of Curriculum & Instruction, Educational Psychology and Educational Leadership and Policy Analysis. Another key feature is that it requires educators to be employed during their graduate studies, which allows the coursework to be fully integrated into their current work setting. The program follows a cohort model with all students beginning in the summer term and taking classes in sequence with the same group of students for both years.
Hebgen is looking forward to growing the program as well. "I'm excited to learn about the market for educators who are pursuing graduate degrees," she adds. "By talking to students and faculty about where the field is headed and about their ideas for courses and coursework, we can learn how to better serve our students and meet their needs."
For more information about the MSPE program, visit their website here.
New Research on Reading with Robots Shows Promise
A new study from a lab in the Ed Psych department has found that a 'learning companion robot' can successfully encourage children to read through subtle social interaction.
And this new research is earning plenty of attention.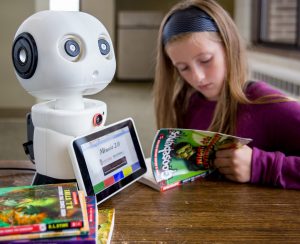 In the study, the research describes how Learning Sciences graduate student Joseph Michaelis built a robot – which he named Minnie – to serve as a reading buddy for middle school kids. His research, published in the journal Science Robotics earlier this month, found that Minnie's new middle school friends grew more excited about books and more attached to the robot over the time the children spent reading to it.
"After one interaction, the kids were generally telling us that, sure, it was nice to have someone to read with," explains Michaelis. "But by the end of two weeks, they're talking about how the robot was funny and silly and afraid, and how they'd come home looking forward to seeing it again."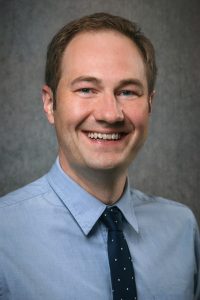 As the child reads to the robot, it reacts to what's happening in the book. "The goal is to try to make it as genuinely conversational as possible. If you were reading a book to me, and I was surprised, I'd say something like, "Wow, I didn't see that coming!" explains Michaelis, a PhD candidate. "So, when a scary part of the book happens, the robot says 'Oh, wow, I'm really scared.' It reacts like it would if it had a real personality."
A number of media outlets have picked up on this new notable research.
To read the story on CNN's website, click here. Also check out the story in Popular Science here. And if you would like to read the Science Robotics journal article, click here.
QM Professor Selected as Visiting Researcher
Ed Psych professor David Kaplan, who teaches in the department's Quantitative Methods program area, has been selected to be the visiting researcher at the Luxembourg Institute for Social and Economic Research (LISER) next January.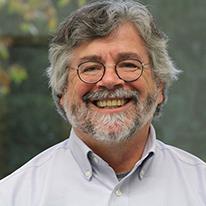 During his time at LISER, Kaplan will be present his recent work on Bayesian approaches to estimating country-level trajectories in educational outcomes and collaborating on multiple LISER-based projects.
For more information, click here.
School Psych Professor Named Journal Editor
Congratulations to School Psychology Program Director Dr. Craig Albers!
Prof. Albers was recently named by the Society for the Study of School Psychology as the 11th editor of the Journal of School Psychology. He will begin his term as editor-elect in January of 2019 and will serve as editor from January 2020 through the end of 2024.
Albers has served as associate editor for the journal for more than eight years, where he has made decisions on over 210 manuscripts. He has a distinguished record of service to the Society of the Study of School Psychology as Chair for multiple committees. His editorship will follow current editor, Dr. Michelle Demaray, a graduate of the UW-Madison School Psychology Program.
First published in 1963, JSP publishes original empirical articles and critical reviews of the literature on research and practices relevant to psychological and behavioral processes in school settings. JSP presents research on intervention mechanisms and approaches; schooling effects on the development of social, cognitive, mental-health, and achievement-related outcomes; assessment; and consultation. Read more about JSP and its high-impact articles here.
Please join us in congratulating Prof. Albers!