Department Main Office
Rm 880, Educational Sciences Building Department of Educational Psychology University of Wisconsin-Madison 1025 West Johnson Street Madison, WI 53706-1796 Phone: 608-262-3432 Fax: 608-262-0843 edpsych@education.wisc.edu
FIND US ON THE UW CAMPUS MAP!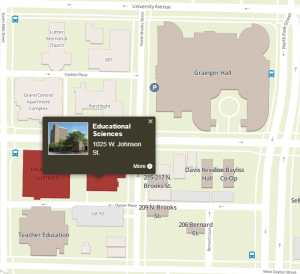 JAMES WOLLACK, PhD
Department Chair
Professor, Quantitatived Methods

Prof. Wollack is a faculty member of the Quantitative Methods program area of the Department.
Rm 880B, Educational Sciences Building; 608-262-3432.
JENNIFER KRUG
Jennifer joined the Department  in the spring of 2019.
Rm 880C, Educational Sciences Building 608-262-3435.
Email: jskrug@wisc.edu
BARB LIENAU
Graduate Admissions Coordinator
School Psychology Administrative Liaison
Barb joined the Department in 1984 and except for a one year stint in L&S, has been with the Department ever since. Over the years she performed the duties of all the administrative positions in the Department and accepted the Department Administrator position in December 2006. She assisted the Department Chair in all administrative capacities, including assisting in budget preparation, human resources, personnel matters, payroll, and grants administration. She has returned to her previous position as Graduate Admissions Coordinator helping faculty and students manage the complicated work of admissions and helping students manage their academic career in the department. In recognition of her many accomplishments, Barb earned a School of Education Distinguished Achievement Award in 1999.
Room 852D, Educational Sciences Building; 608-262-1427.
Email: balienau@wisc.edu  
Philip Romero-Masters
Technology Specialist
Graduate Student, The Information School
Philip joined the department when he began his studies at The Information School here at UW-Madison. Since joining the department, he has become deeply involved in the campus information technology community by serving on the Campus Information Technology Committee, the Cybersecurity Strategy Update Team, and the CIO Search and Screen Committee. Using his background in technology, he assists the department with its technology needs. Rm 878, Educational Sciences Building 608-262-0841 pmasters@wisc.edu