New ADHD Group for College Students
Student Assessment Services (SAS) is excited to offer a 16-week group intervention designed to address core symptoms of ADHD. Students will meet weekly in a small group during the semester to learn strategies to improve attention, concentration, and overall management of ADHD in academic, occupational, and social settings. Students will learn strategies to develop organizational systems, essential skills for learning and studying, and associated self-care and self-advocacy. For more information or to enroll, contact Student Assessment Services (SAS) at 608-265-2802 or studentassessmentservices@education.wisc.edu. Groups are offered in fall and spring each year.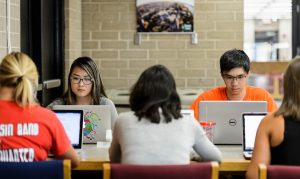 The Student Assessment Services (SAS) provides psychoeducational evaluation of UW-Madison students who have learning problems or suspect they may have learning disabilities that interfere with their academic performance. Services offered include diagnostic interviews, cognitive and academic assessment, learning disabilities diagnosis, and mental health screening. After assessment, the testing results are explained to students. Students also receive a written report summarizing assessment findings. Although SAS collaborates with other individuals and agencies at the student's request, such as faculty and the McBurney Disability Resource Center, the university student retains responsibility for advocacy.
To obtain a referral form, call the Program Assistant at 608/265-2802 or email the clinician at studentassessmentservices@education.wisc.edu. The Program Assistant or clinician will send an initial referral form and schedule a time for an initial screening interview.
SAS students and staff adhere to the ethical standards of the American Psychological Association. All information provided by and about students is considered confidential and is not released to third parties without the written consent of the student.
TO MAKE A PAYMENT TO SAS, CLICK HERE
Getting Started
Referral
Students wishing to refer themselves to SAS may do so by telephoning the SAS clinician at 608-265-2802 or emailing the SAS clinician at studentassessmentservices@education.wisc.edu.  Students seeking SAS services will be asked to complete a referral form. This form is then returned to the SAS clinician either prior to or at the screening appointment.
Screening Interview
Within one week of referral, the SAS clinician conducts an in–person screening interview with the student seeking services.  The purposes of this screening are:
 To determine whether the student is eligible for a SAS assessment;
 To determine whether SAS can meet the student's needs through assessment;
 To determine whether other services should be sought by the student before the student receives SAS services or while the student is on the waiting list (e.g., mental health services).
Waitlist
Following the screening interview each student is placed on the SAS waiting list.  Students are assessed in the order in which they appear on the list unless there are extenuating circumstances that merit an earlier assessment.
Assessment Process
Student assessment through SAS includes a series of activities as outlined below:
Intake Interview
SAS assessments begin with a thorough intake interview with each client.  The interview typically takes at least one hour and often longer.  At the end of the interview the SAS clinician and the student client discuss an assessment plan and schedule subsequent assessment sessions.
Please note: It is incredibly important to respond to SAS phone or email efforts to schedule the intake assessment.   If clients do not respond to communications after multiple attempts, the client is placed at the bottom of the waiting list for services.
*We request at least 24 hours' notice of cancellation of appointments.
Assessment
The SAS clinician administers an assessment battery tailored to meet each client's needs.  Assessment is conducted over a series of sessions and takes an average of one month to complete. The length and number of sessions required depends on several factors, including the complexity of the student referral, student availability for testing, and general participation in the process.
Fees
The fee for a full SAS assessment is $450 for LD assessments and $600 for ADHD assessments.  Occasionally, if a student only needs a limited assessment (e.g., when a required measure has recently been administered to the client), the SAS clinician may reduce the assessment fee. There are scholarship funds available for students who demonstrate a financial need.
TO MAKE A PAYMENT TO SAS,
About Us
Director
Kristy Kelly, PhD/ Assistant Clinical Professor
Clinicians
Benjamin Glad, M.S./ Clinician
Doctoral students in the School Psychology Program also provide services in SAS under the supervision of the lead clinician and SAS director.
Find Us
314B Educational Sciences Building
1025 W. Johnson Street
Madison, WI 53703
Parking
 Your best option is metered parking near the building. There are also major bus lines that drop off on both Johnson and University that are near the Educational Psychology building. After 4:30pm there is free parking in a lot behind the Zoology Research Building on the corner of North Charter Street. In terms of parking garages, there are a few available in the area that you may have to pay a fee to park in; Lot 80 (Union South Garage), Lot 17 (behind the Engineering building), Lot 7 (underneath Grainger Hall), and Lot 46 (on the corner of Lake and Johnson streets).